A quick guide to using the Fundraising tool to take donations. This primer takes you from start to finish in 10 easy steps.
Figure out how you want to identify the donations
Create or use an existing campaign

Go to Campaigns
Use an existing campaign (click on the campaign name to add or edit existing segments within that campaign), or
Create a new campaign by clicking the Add icon
Create campaign, if needed
Every campaign needs:
A name
A code
A description
The rest of this page can be left blank for now.
Create segment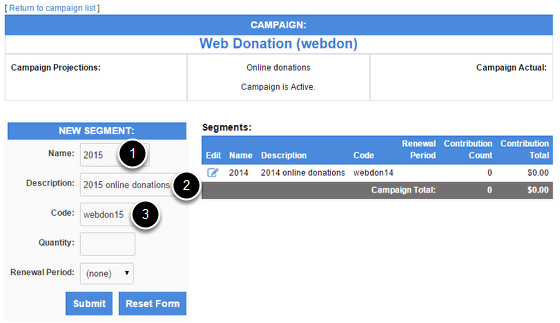 Create or use an existing Donation form

Go to Forms
Use an existing donation page, or
Create one by clicking the Add icon
Create donation form, if needed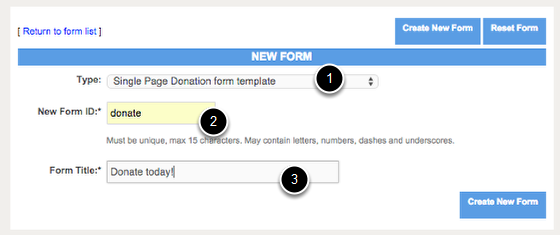 Every form needs:
A template, Single Page Donation form is the easiest donation template available
An ID
A title, this is displayed at the top of the page
Click the Contribution Tab at the top of the form
Select campaign and edit ask amounts

Select the campaign for this form, each form can have only one campaign
Click Edit to assign a segment and edit the ask amounts
Ask amounts can alse be deleted from the edit menu.
Edit your asks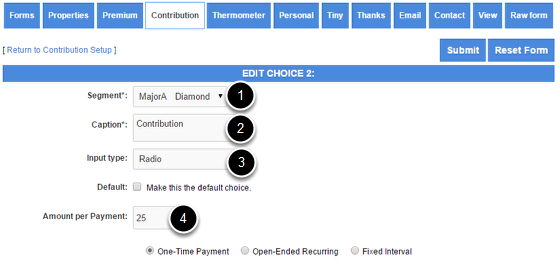 Every donation ask needs:
A segment
A caption
An input type
An amount
Click here for more information on Input Types.
Select accepted payment methods

Click View Tab to see your donation page
The Thank You page and email can also be customized, but your form is ready to accept donations whether or not those have been personalized.