Previous: Part 2 - All About Actions
Part 3 - Tracking Legislators, Bills and More
This user guide is broken up into three sections to help you get the most out of Advocacy powered by The SoftEdge. The three sections are; Getting Started with Advocacy powered by The SoftEdge, All About Actions, and Tracking Legislators, Bills and More.
Bill Tracking
Advocacy powered by The SoftEdge has the ability to track bills which are currently being considered. The bills which can be tracked are based upon the type of Advocacy license you have. A state license is required to track bills in a particular state, and a federal license is required to track federal bills.
With Bill Tracking, you can see who is sponsoring a bill, the status of the bill, its status in committees and a summary of the Bill. Your organization can emphasize bills which are of importance to your activists, declare a position on the bill and link the bill to a particular Action.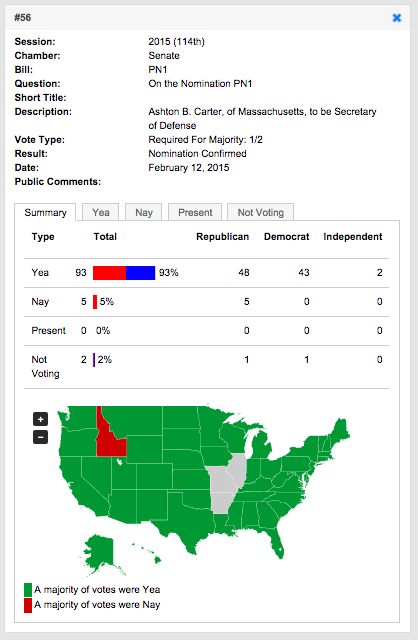 Note: Tracking state bills does not have the full features which are available when tracking federal bills. This is due to the variety of ways in which states report and update bills. The many different ways in which state bills are reported make it difficult to provide an entirely consistent experience across the 50 different state level reports.
Click here for an indepth explanation of how to set up bill tracking.
Position
For every bill being tracked, your organization can be neutral, oppose the bill or support it. Your position on the bill is displayed on your CongressWeb site.

Actions on Bills
Within each Action, you can connect any number of relevant bills to the Action. The Action will now have a link to the bill, and the bill will have a link back to the Action.
Click here for instructions on linking bills to actions.
Vote Tracking
Similar to the Bill Tracking available in your Advocacy software, federal license holders can also track the votes being taken in a specific legislative body on a specific bill.
When a vote is being tracked you can see where it is in the legislative process. And once a vote has been taken, you can see how the different legislators voted. For Federal legislation, this can be used to send specific messages to different recipients based upon their votes.
Click here for more information about setting up vote tracking.
Communicating with Elected Representatives in Advocacy powered by The SoftEdge
Your Advocacy software comes with a built-in directory of elected representatives and a customizable scorecard for legislative bodies.
Directory
Your Advocacy site includes a legislative directory where your activists can find their elected Federal and state representatives. Each elected representative has a listing on your site which includes a variety of publicly available information about them, aggregated into one place. The Directory cannot be changed within your advocacy software. It is a directory which aggregates publicly available information alongside the bills and votes which you are tracking.
Your Activists can access the directory listings by either entering their address or clicking their state.
Individual Pages
Information in the directory listing of elected representatives includes:
A direct link to send them an email message
Official biographical information
Contact information
The directory listing also includes the following information when available:
A direct link to tweet them a message
Their relationship to bills you are tracking
Committees they are on
The score you have given them
Links to their Twitter, Facebook and YouTube accounts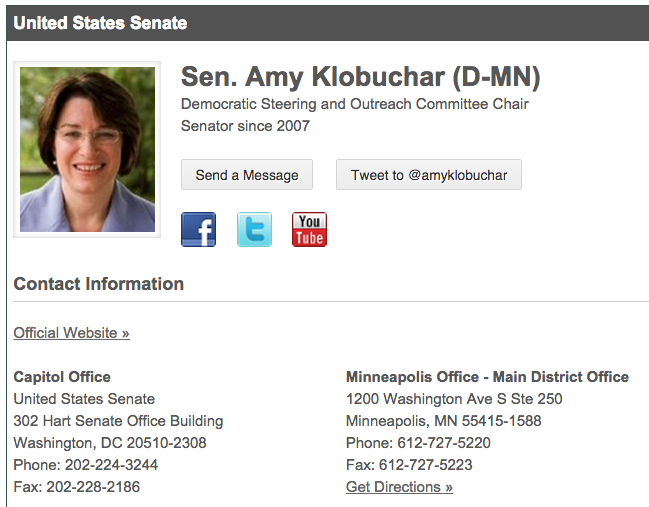 Congressional Page
The Directory also includes detailed information about Congress and can serve as a resource to you and your activists. Included in the Congressional information in your Directory is:
A Guide to Congress
Congressional committees
Senate and House leaders
Demographic breakdown of Congress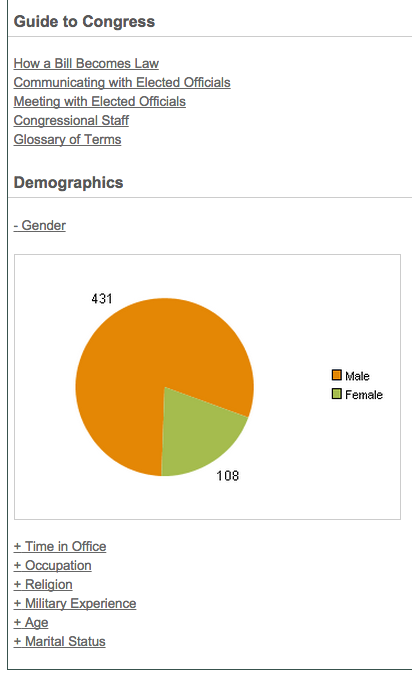 Scorecards
A scorecard can be set up for individual legislators based upon your internal criteria. The scorecard ranking you use can be one of the built-in rankings (A-F, 1-10, 1- 100) or you can use your own custom ranking. Each legislator on your scorecard also includes a space for your own comments. The scorecard is displayed in the legislative Directory.
Note: Comments made on your legislative scorecard are publicly visible on your CongressWeb site.
Click here for more information on setting up a legislative scorecard.
Web Stickers
Web stickers are embeddable images that you can offer to your activists and supporters for them to place on their website. Using your own images that you have uploaded to your Advocacy site, SoftEdge will generate the code required to embed the sticker on your own or any other site.
The web sticker section of your Advocacy site provides the HTML code needed and offers you two flavors of Web stickers, a Site Button and a ZIP code Lookup. The completed Web Stickers are displayed in a gallery labeled Share on your CongressWeb site.
Site Button
When clicked, the site button will bring people to your CongressWeb site.

ZIP Code Lookup
The ZIP code Lookup allows  people to enter their ZIP code. When they click the web sticker after entering their ZIP code, it will bring them to the Directory page of your CongressWeb site with the elected officials from their ZIP code visible.

Note: Web Stickers will bring people to your CongressWeb site. They will NOT bring people to your website if you are using an embedded iframe.
Polls
Polls generated through your Advocacy software let you ask questions of your Activists. Your software allows you to customize the questions, the text, the answers and the visual design of the poll. The poll can be displayed on your CongressWeb site or your own website using the provided HTML code.
The results of the poll can be displayed on your CongressWeb site or on your own site if using an embedded iframe. Poll results can also be downloaded as a pdf. Poll results are always anonymized and do not appear in your Activists' contact history in your Databank.
Click here for more information on using a poll in your Advocacy site.
Sign Up Forms
SoftEdge provides a signup form in your advocacy software. This signup form can be displayed on your CongressWeb site or as a stand alone site. The signup form pulls Title/Prefix, Name, Full Address, Email, Phone Number and Fax Number back into your Databank.
Because the Sign Up forms in Advocacy powered by The Soft Edge do not return as much data as the Sign Up form in your Databank, we generally recommend using your Databank form to gather names and emails. However, there are many situations, such as when using a stand alone advocacy site, where the SoftEdge Sign Up form is the best option available.
Note: If you create custom fields for your Sign Up form, this data will NOT be pulled into your Databank.
Click here for more information using a Sign Up form on your Advocacy site.
Customizing your Advocacy site
In the Options menu in your Advocacy page, you can customize the look and appearance of your CongressWeb site and your Facebook app. The appearance, sections which are displayed, and the verbiage of your Advocacy site can all be customized from this menu.
Click here to find out more information about customizing your Advocacy site.
Taking the Next Step
Now that you understand the basics of Advocacy powered by The SoftEdge and how it works with your Databank, the next step is yours! Whatever your focus or your needs, we at thedatabank are here to help you succeed in your Advocacy efforts and goals.
Please visit the Advocacy section of our Support Center for tutorials and how-to's.
Additionally, we encourage all of our clients should take full advantage of the ongoing services we offer:
Online Support Center
Free Phone Support (Fundraising and Advocacy clients only)