You can send SMS text messages to any group of contacts, or subscribers of SMS publications in your Databank.
Text messaging has become the main communication channel for millions of people. While Databank clients have been able to send text communication through the integrated CallHub service for some time, the new built-in SMS Announcement tool makes it even easier for users to send bulk text messages to their contacts.
You will find SMS Announcement under the Communication menu in your Databank.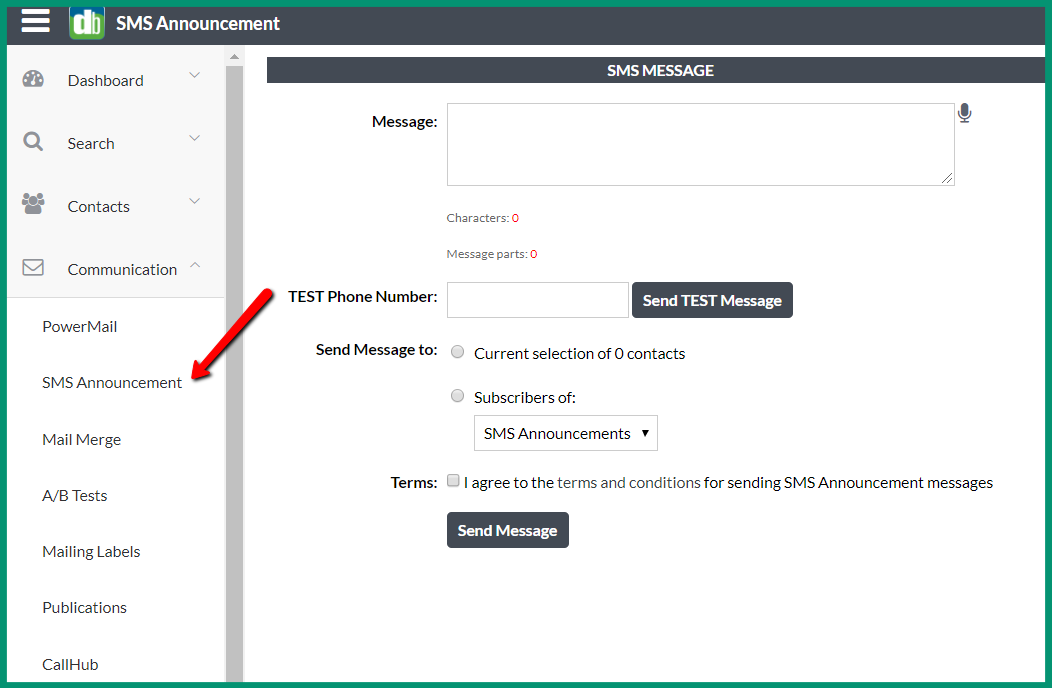 Guidelines and pointers about the new tool:
A text message can be sent to any contact in your Databank who has a valid Mobile Phone number in their contact record.

Text messages should only be sent to contacts who have opted-in to receive text messages from your organization.

If you're not currently asking for a mobile phone number, and permission to text, on your subscription form, you can easily add that in the Form tool. We also recommend adding a text message specific publication that people can subscribe to on your subscription form.

The cost of sending text messages through the SMS Announcement tool is $.02 per 140 character message. If your message is longer than 140 characters it will be sent as multiple texts with each costing $.02. You will be invoiced for this monthly if you pay your Databank subscription month-month, or quarterly if you're on an annual or semi-annual subscription plan. The sending of TEST messages will also be charged at this rate.

You will need to agree to the terms and conditions for sending SMS Announcement messages each time you send out an announcement. Please make sure to read through these terms and conditions.

This is a 'Send Only' text messaging tool. Recipients will not be able to send reply texts back. If they do reply, they will receive a text from Amazon's AWS Global SMS Alerts, which is the service this tool uses for sending the messages. We suggest that you include a tiny url or email address in your message as a way for recipients to respond.

If you would like to send SMS messages with auto-replies, and other features such as dedicated short-codes, please look at the Databank's integration with CallHub.
Note: If you are looking for a more rigorous two-way SMS functionality you will want to look into CallHub, it does require additional set-up and there is a bit more of learning curve. All training and support articles are available within CallHub's support center.