Your personal email is a great way for you to communicate one-on-one with major donors, volunteers, staff, etc. It's personal yet unobtrusive. But unfortunately, your personal emails are not recorded in your Databank CRM. To have a complete picture of the interactions your organization has with its contacts, it'd be nice if personal emails sent to them could also be recorded in your Databank.
Of course, you could copy/paste your personal email messages into activity records in your Databank, but that's tedious and requires you to always be logged into your Databank. An automated solution that painlessly writes your personal email messages to the contact's Activity History is much more desirable, and is available in your Databank.
The way it's done is quite simple: you just BCC your personal email messages to a special email address that we provide. When our email server receives messages at this address, it converts them into Activity records, provided two conditions are met:
Your email address (the "From" address) is on file as a valid Databank user account.

At least one recipient's address (a "To" address) is the email address of a contact in your Databank.
The first 2,000 characters of your subject + email message are saved. Attachments are not saved. These activities have activity type BCC, making them easy to spot, and making it easy to search for the personal email interactions your organization has had with your contacts.
When sending a personal email that you don't want to show up in Activity History, simply don't BCC it to the special address.
Once you have the special email address, simply BCC your personal email messages to it. In the example below, Maria sent me a message using her Gmail account. She bcc'd the message with the special email address for the Our Nonprofit demonstration Databank. The subject of her email was "Fwd: Make your change meaningful to Our Non Profit!". The rest of the activity note was her message.
Note the small text just above the blue header bar. If the contact has an email address that is not marked Bad or Unsubscribed, this message displays to help you with BCC'ing your personal messages. Click the Copy icon to copy your special email address to the clipboard, ready for pasting into your personal emails. Click the Information icon to display this support article. If you see this small text in your Databank, you're already set up with the BCC feature.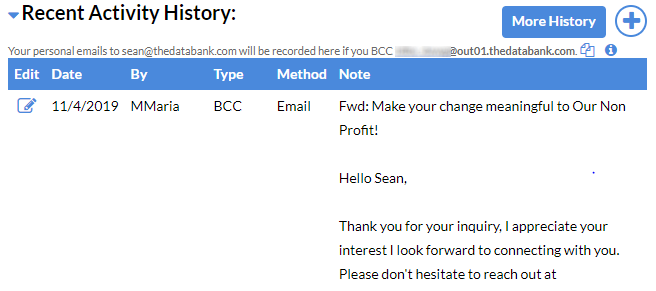 If this feature is not already enabled in your Databank, you may request it via Help → Support Request on your Databank menu. Ask us to Enable BCC Activities in your Databank. Upon receiving your request, we'll set up a special email address on our mail server for your client account. If you have multiple organizations, we'll also set up a smart mailbox for each of your organizations. We'll respond to the ticket with the email address(es) you should use.
*** There is no setup charge or ongoing cost for this feature. It's standard functionality available to all clients, upon request. ***
P.S. - Do not use your special BCC address on your PowerMails! PowerMail activity is already recorded in the system.