Link
Toolbar Button:
Keyboard Command: Ctrl+L
Makes the selected text into a clickable link.

This function opens a popup window in which you specify whether you are linking to a web page, bookmark, or email address. Depending on which you choose, different questions will appear.
Web site links are the most common choice. For these you will:
choose whether or not the link is secure (recommended for login pages, signup forms, donation forms, etc.)
enter the web address
decide whether to enable click-thru tracking on the link - to enable it, simply give the link a Click-thru Tracking Name
Click-thru tracking shows you how often your readers clicked the link. This is similar to open tracking, which shows you how many of your recipients opened your email. Click-thru tracking helps you discover what portions of your message are interesting to your audience. Neglected portions can be improved or removed.

Tip:  If you are linking to one of your custom forms hosted by thedatabank, a checkbox called "Personalize link" will appear. If checked, when your reader clicks on the link, the form will know their member number and in most cases will be able to pre-fill many fields on the form. One reason for using personalized links is it makes it more convenient for your members to donate or renew, because their name and address will be filled in automatically.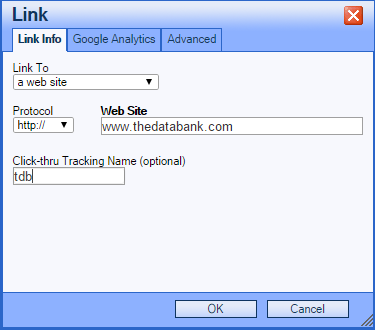 Google Analytics information can be added to web site links if your organization has a Google Analytics account to analyze your web site traffic. Fill out the information in this tab if all of the following are true:
this link goes to a page on your web site or to one of your Online Forms hosted at thedatabank;
this link goes to a page that has the Google Analytics code added to it;
when you analyze traffic to the page, you want to be able to differentiate people who came to the page via email from people who came to the page via other routes (such as a link on your web site or a search engine).
For the Google Analytics side to work, all three fields must be given a value. Use the on-screen suggestions to help you determine what to put in.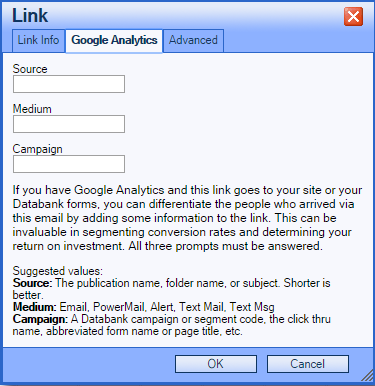 Bookmarks are useful for Table of Contents type links. Although an email message shouldn't be overwhelmingly long, it can be useful to provide quick links to specific portions of your document. For instance, a newsletter could consist of articles by one or more regular columnists, several featured stories, a tip or trivia section, etc. A Table of Contents helps your readers go straight to their favorite parts. Before creating a bookmark link, you must first create bookmarks, using the Bookmark tool. Bookmarks identify the points in your document that you want to be able to jump to.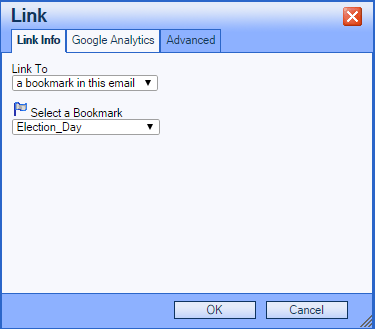 Email links can be used to solicit feedback from your recipients or encourage them to contact someone. For feedback, enter your own email address or a special feedback address just for this purpose. Otherwise, enter the email address of the person to contact. You can specify a default Subject line to save typing for a reader who clicks the link. You can even put in email Body text if it makes sense. For instance, if you are asking your readers to contact a specific leader or organization with an activist message, message of thanks or congratulations, etc., this allows you to provide suggested text, and again reduces the amount of typing your reader has to do.
The Link popup window also includes an advanced tab with many options that persons well-versed in HTML might use occasionally. Most of the time these options are not necessary, so if you don't know what they mean you can safely ignore them.
For existing links, the Link popup window can also be opened by double-clicking on the link.
Unlink
Toolbar Button:
Removes the hyperlink from the selected text or image.
Bookmark
Toolbar Button:
Creates a bookmark at the cursor position, or the position of the selected text. Bookmarks are "jump-to" points in your document. Most of the time bookmarks are used to create a Table of Contents so that your readers can go directly to portions of your document that attract their interest. A common place for bookmarks is on heading lines. Once you have created bookmarks you can create links to them with the Link tool.

This function opens a popup window that asks you to provide a name for the bookmark.

While you are editing your document, you will see blue flags displayed where your bookmarks are located, so that you don't forget you've created them or where they are. The blue flags do not display to your readers.

To remove an existing bookmark, click on the flag and press the Delete key on your keyboard. Be sure to also remove any links pointing to the bookmark!