What is Contact Grouping?
Advanced Relationships are a way to "elevate" certain relationship types within your Databank. When two Contact records are grouped by an elevated relationship the relationship displays prominently on the Contact record, changes to one record can update the other, and can be used to combine contribution information and generate "householded" mailing lists.
Contact Groupings are an advanced feature of your Databank. To activate this functionality, please contact your client representative at thedatabank.
If you are new to using relationships in your Databank, read more about using the Relationship Tool here.
Determine which of your relationships will be grouped
Up to two of the relationships available may be designated as "grouped".
The grouped relationships will normally be configured during the setup process. If you want to change the grouped relationships or create a new grouped relationship, please submit a support request.
Grouped Relationships are displayed prominently on the Contact history
Clicking the grouped relationship will bring you that Contact record
Data fields can be updated automatically
When selected, key data fields will be updated to the grouped Contact record. While these fields can be customized, they typically include address, city, zip code and state.
Contributions can be combined for reporting purposes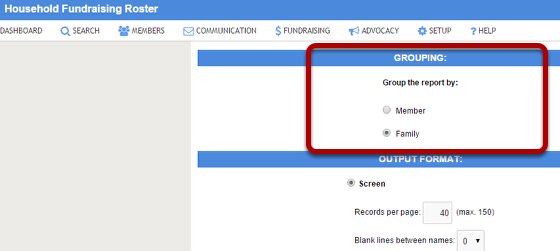 Group the Contact list display

Change the display options from among your elevated relationships
Records are grouped for mailing and reporting purposes
For more information: