Forward to a Friend is beautiful
I'm just going to go ahead and say it, I love the Forward to a Friend feature in the Databank.
It is a true thing of beauty which allows your constituents to forward your messages, but removes the personalization from outgoing links. Ideally, when sending out your carefully crafted messages, you are taking advantage of the ability to send out personalized, actionable links to your constituents. The Forward to a Friend button let's your constituents forward that message to their friends without any of the personalized links. Beautiful, yes?
I don't, however, love how it looks.
Thankfully, I am not alone in that feeling and can proudly unveil our brand new Forward to a Friend button.

Shiny.
Did you know you can Forward to a Friend with a text link as well as the button? Read our Support Article to find out more. 
Forward to a Friend is your Friend too
When someone receives your carefully crafted email, full of those valuable, personalized links, what do you want them to do? Beyond responding to your call to action, you also want them to send that message on to their networks.
But that email is full of personalized links. When the email is forwarded using the forward button in an email client, those personalized links are forwarded along as well. This is why every time someone clicks a personalized link, we ask them to verify their identity.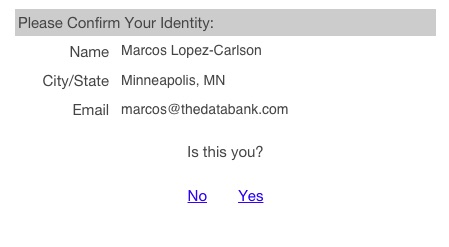 Unfortunately, not everyone hits the NO button when they should. When that happens, the original recipient's information is populated in the form. When the new person fills out the form, they could potentially overwrite the existing record!
By encouraging your constituents to use the Forward to a Friend link, you are helping them remove the personalized links from their emails and helping spread your message.
We've got your back
While it's true that records can potentially be overwritten, none of us wants that to happen. After all, the people most likely to forward your PowerMails are the people most engaged with your organization! They are your donors, your activists and your supporters. 
To keep that from happening, we have a few safeguards built into our Forms. First, if someone's record changes drastically, meaning their email and name are changed, we will assume that it was a mistake in forwarding and create a brand new record. Second, in the Advanced Options of the forms, you can get an email sent to yourself if someone's record is changed by a form. These two safeguards, in tandem, should help prevent your valuable records from being overwritten.